Karachi: Former Director General (DG) of the Federal Investigating Authority (FIA) Bashir Memon has joined Pakistan Muslim League-Nawaz (PML-N) on Friday.
Bashir Memon has been appointed as the convener of the 12-member committee in Sindh formed by Maryam Nawaz to welcome PML-N leader Nawaz Sharif.
The committee is set to ensure the participation of party workers in welcome event for Nawaz Sharif who is set to return to Pakistan on October 21.
The party is preparing for a grand reception for Nawaz and plans to hold a massive rally of one million people in their stronghold, Lahore.
According to the party's notification, Muhammad Zubair, Khil Das Kohistani and Nihal Hashmi are also included in committee, which is responsible for ensuring party workers' attendance in welcoming the PML-N supremo.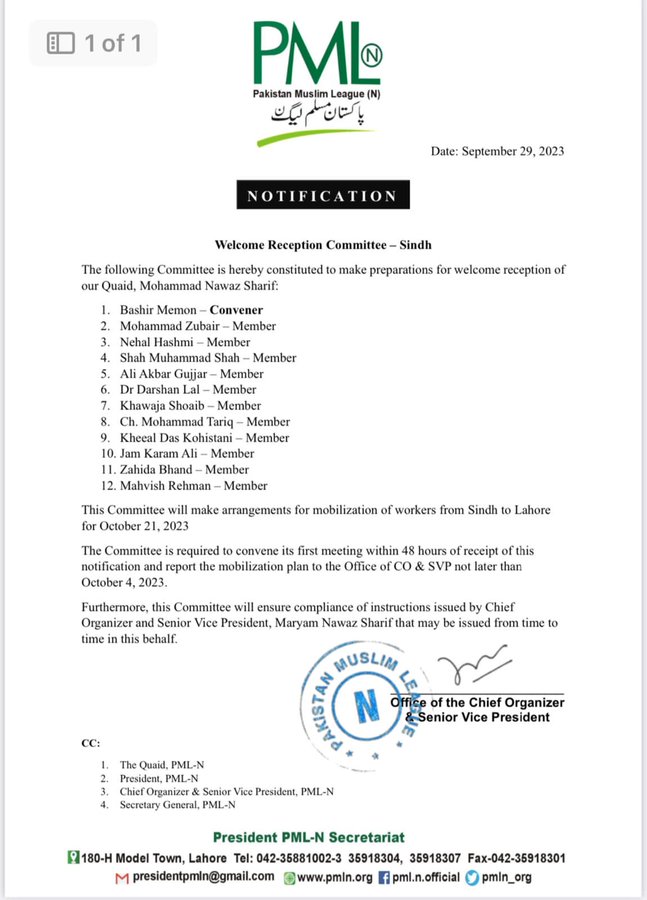 It is pertinent to mention that this development comes after former leader of the opposition in the National Assembly (NA) Raja Riaz, joined the PML-N earlier this month, after meeting Nawaz Sharif in London.
Bashir Memon served as DG FIA from October 2018 to April 2020. He resigned from his post and later claimed that he was pressurised by the PTI government and former premier Imran Khan to initiate cases of corruption, money laundering, and treason against the opposition leaders, especially the PML-N.
The former DG FIA during an interview with a private news channel in October 2022, confirmed the claims made by a hacker that he was locked in a washroom on the then-prime minister, Imran Khan's directive and pressurised to follow his orders.