Islamabad (Web Desk): Caretaker Law and Justice Minister Ahmad Irfan Aslam along with provincial law ministers on Wednesday urged all state organs to respect autonomy of the Election Commission of Pakistan (ECP) and its authority in carrying out delimitation of constituencies and determining the election schedule.
A meeting was chaired by caretaker Law and Justice Minister Ahmad Irfan Aslam along with other provincial law ministers in Islamabad, including Kanwar Dilshad (Punjab), Muhammad Omer Soomro (Sindh), Arshad Hussain Shah (Khyber Pakhtunkhwa) and Amanullah Kanrani (Balochistan).
The meeting was held to discuss matters pertaining to the upcoming general elections to the National and Provincial Assemblies. During the meeting, all Law unanimously agreed that the Constitution must be read as a whole and no provision of the constitution must be read in isolation of other relevant provisions.
In the meeting, all the Provincial Law Ministers emphasised that in order to ensure harmony amongst all federating units and to avoid unnecessary financial burden on the national exchequer experienced due to provision of security arrangements on different election dates, the general elections of the national and the four provincial assemblies must be held on same day.
A press release was issued after the meeting which stated that "As per the Constitution, the conduct of general elections and announcement of elections date is the sole competence of the Election Commission of Pakistan."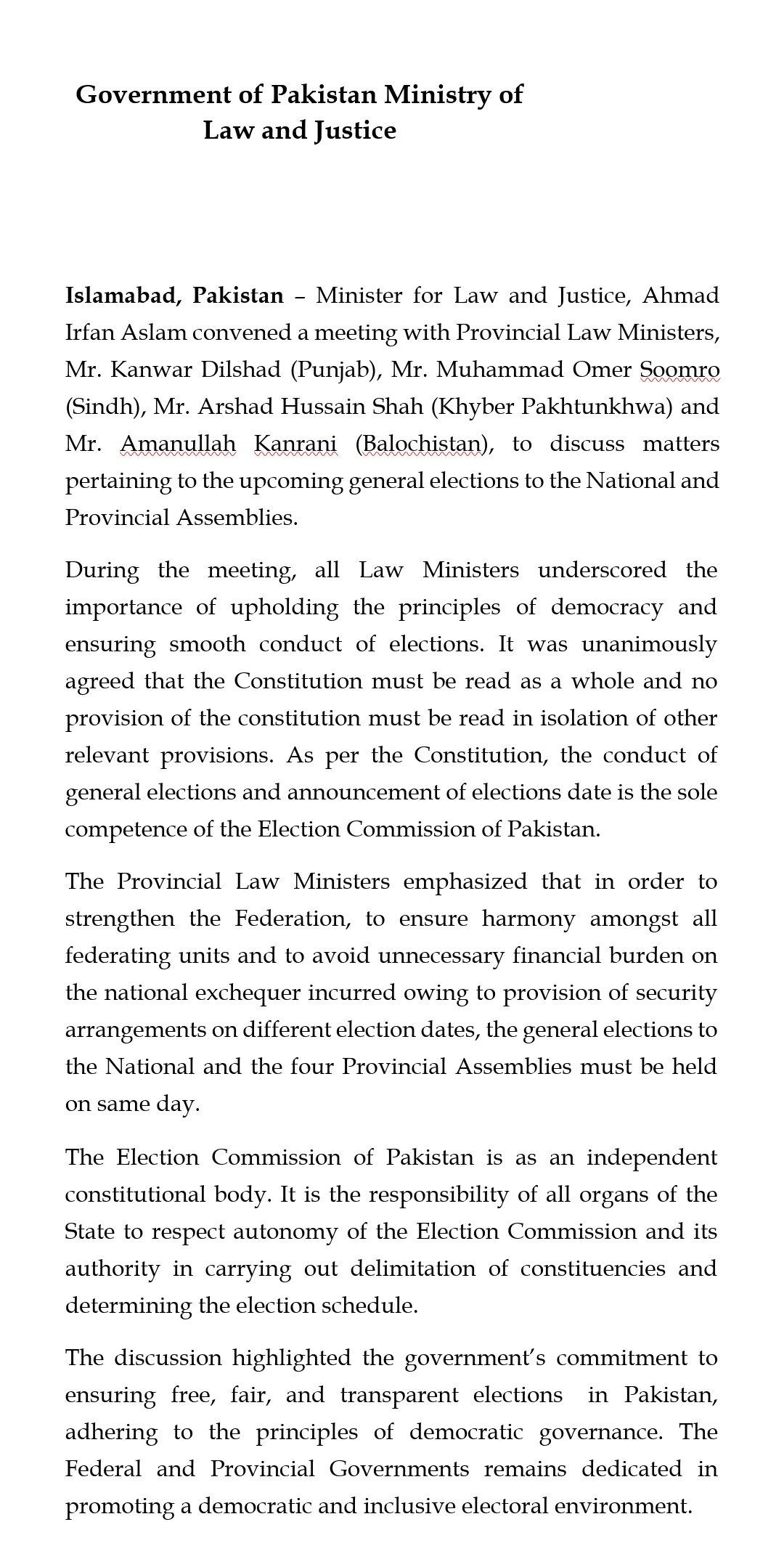 "The Federal and Provincial Governments remains dedicated in promoting a democratic and inclusive electoral environment," read press release.
It is worth mentioning that the statement by the law ministry comes a day after Caretaker Prime Minister Anwaar-ul-Haq Kakar, too, issued a similar statement in the wake of speculations that President of Pakistan Dr Arif Alvi reportedly expected to announce the date of the election.